One of the biggest trends in Fall/ Winter coats for women this season is the Cape Coat. At Bluesuits we are always inspired by our clients so when Jamak Khazra, the designer of the collection started designing Cape Coats last summer she had no idea that it would become one of the hottest in womens coats trend this seasons. View and shop
" Our clients always wanted a comfortable winter coat with sleeves wide enough to wear over their business suits." Says Jamak Khazra. The Cape Coat has no sleeves so by design cape coats are perfect to wear over your business suits, and other women casual clothes which are sold online.
Bluesuits Red Cashmere Double Breasted Coast with Leopard Print Suede Collar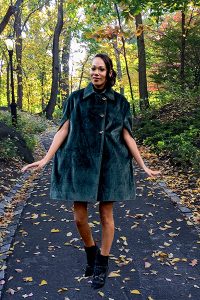 Bluesuits Green Faux Fur Double Breasted Cape Coat with Butterfly Buttons
Bluesuits Faux Persian Lamb Fur Double Breasted Cape Coat with Leather Buttons
Bluesuits Burgandy Faux Fur Double Breasted Cape Coat with Butterfly Button
Bluesuits Cape Coat Collection Features Several Colors and Fabrications including Faux Furs, Wool, Double face wool and Cashmere Coats in Single breast or Double breasted styles.
Featured on the left is Bluesuits Red Cashmere Double Breasted Cape Coat with Leopard Print Collar.
We think this style wins over Peacoats, bomber jackets or puffer jackets.
You will also see the Faux Persian Lamb Cape Coat, The Burgandy Faux Fur and the Green Faux fur cape coats in Bluesuits collection of winter coats for women.
Bluesuits offers bespoke custom tailored jackets, suits and coats for women. If you are interested in placing a custom order please contact us by  making an appointment to visit our showroom or shop online.
If you are looking for different way to make your makeup, we have natural option how you can get a homemade makeup. Improve your skin complexion and texture with these tips from experts. Swapping out some daily habits and being more aware of other lifestyle factors that could be affecting you will help you figure out how to get better skin. Whether your main concern is anti-aging skincare or acne treatments, "Good skin quality and skin appearance is an indicator of youth" says Doctor Sibthorpe, he can help you improve the appearance, feel and health of your skin and also address problems such as pigmentation, redness and sun damage.