Embellished Silk Chiffon custom shawl for a VIP client. The shawl is elegant, sexy
Here is another view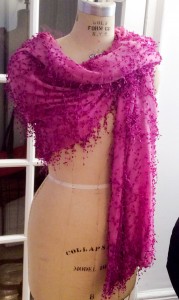 { 0 comments }
Every once in a while we like to share fashion and style questions that come up frequently with our clients. Here is one from yesterday that I'd like to share
Here is the question:
When I am on business trips I usually wear black or navy suits, black shoes and bags (even in the tropics).
First is it appropriate to carry a caramel coloured Dooney & Bourke tote for my tablet with the black suit (or should I purchase a D & B black computer tote)?
Also, how do you suggest that I accessorize all my black and navy suits in tropical climates?
Your fabulous taste preferences are appreciated.
Hi Deborah,
Thank you so much for giving us the opportunity to share our style sense with you and many other women who have the same questions.
You are absolutely right in wearing your tropical weight suits on business trips even in the tropics. As you stated so sensibly a Caramel color tote is a great way to wear your black suit in the tropics.
We recommend accessorizing your dark suits with camel, Ivory, Beige, Tan and even white accessories such as handbags, shoes and specially scarves to transition them through different seasons.
I put together two looks that I hope will inspire you.
In the first one, we are showing a black jacket with Bluesuits Gold and beige scarf ($ 195), our Italian broach ( $165), Bulgari Tan Handbag ( $1650).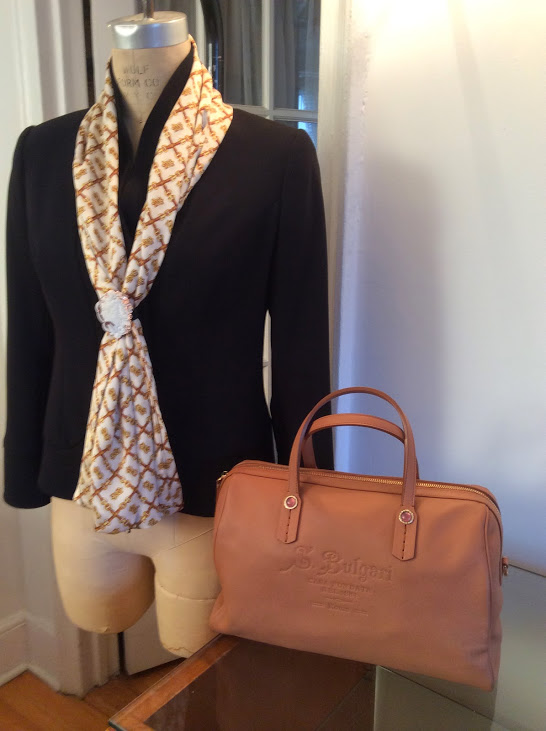 In the second look I put together the Black and White Bluesuits Silk Scarf ( $250) with a black scarf holder, you can use a black or white handbag with this look.

You can also reach Jamak on twitter @bluesuits and ask your fashion style questions using paging @bluesuits
{ 1 comment }